Quality Air Conditioning Repair & Maintenance For Maximum Savings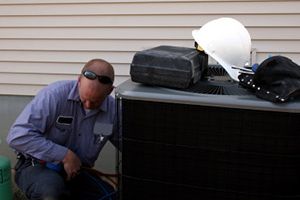 Air conditioning systems are the contributing factor in people's comfort during the summer in Paris, Texas. They are also most often the contributing factor in energy usage. Staying cool and comfortable, especially during the hot summer months, can contribute to a positive sense of well-being and even productivity.
Let's face it, it gets hot in Texas so our air conditioners run hard throughout most of the year. Then, there are those seasonal changes where we switch back and forth from cooling to heating all in the same 24-hour period. This is all hard on the equipment, which is why they break down more here than in cooler states.
Proper maintenance can keep your air conditioning system running regularly and efficiently. By having a professional go over your cooling equipment annually with a pre-season checkup to check for needed air conditioning repairs, you can prevent larger problems that will inevitably be more costly down the road.
Find An Experienced Air Conditioning Repair Contractor In Paris
When looking for an air conditioning repair service, choose among specialists that have the experience to troubleshoot your system. You don't want to deal with the contractor who doesn't get it right the first time.
A good technician will be able to test and examine every part of your air conditioning unit for defects and problems and even provide a tune-up which entails proper coil and condensate cleaning among other things.
Enlisting the services of an experienced Paris HVAC contractor can enable homeowners to detect components that need replacement before the air conditioning unit breaks down. Spotting defects and having air conditioning repairs done by certified professional will also prevent further deterioration and minimize the loss of energy efficiency with the passage of time.
There May Be Leaking Air Conditioning Ducts
Have you checked your ductwork or have you had a professional do it for you? Before the situation goes beyond repair and before unhealthy materials infiltrate your system and affect your indoor air quality, have a qualified technician test the ducts, particularly during an air conditioning tune-up. By ensuring that the treated air isn't leaking through the ductwork, you can count on a more energy efficient home. Energy efficient homes help you save.
Air Conditioning Maintenance
If repairs are necessary, having a competent HVAC professional take care of them is the first step. Next, your contractor should be able to educate you on proper home maintenance, so you can do your part in extending the life of your air conditioning unit. Lastly, if you chose your contractor wisely, they will schedule with you seasonal or yearly checkups and tune-ups as required preventative maintenance.
The Problem Could Be Really Simple
Leave the troubleshooting to the professionals, though. For instance, if the air conditioning unit does not cycle on, a technician may accurately assess if the thermostat is malfunctioning. If the air coming out does not feel cold, the refrigerant level may need to be adjusted. A technician will be able to inspect the various components of the unit, check the correct quantity of refrigerant, address any seal duct leakage in the central system, and other things that are relatively simple to fix.
Achieving Energy Efficient Air Conditioning
It is important to make sure that your air conditioning unit is working smoothly and operating at peak efficiency. Beyond having the filters cleaned regularly, a thorough maintenance check can help prolong the life of your equipment.
When your unit is working properly, you avoid utilizing more energy and you can cut back on your electricity bill. If your air conditioning unit's compressor fails, have it replaced.
Again, a professional Paris HVAC contractor who does maintenance checks and air conditioning repairs will be able to explain what causes an air conditioning unit to break down, be it an overheating compressor or excessive pressures occurring inside the compressor.
Recent Articles
How Heating Repairs Can Save You Money

Most of the time, your air conditioner keeps your home cool and you don't need to give it a second thought. However, the machinery of your AC and cooling system can develop problems, which can make your home uncomfortable. It might also increase your energy costs each month. When you encounter any problems with your air conditioner, you need to have them repaired as soon as possible […]

Read More


The Most Common Air Conditioning Problems

Keeping your home warm is extremely important during the colder months, and you need to know that your heating system is totally reliable, effective, and efficient. That's why it's so important to have regular maintenance and prompt repairs performed on your heating system. Our professional heating contractors can help you keep your heating system in the best condition possible at all times […]

Read More
If you are looking for professional air conditioning repairs, then please call 903-784-8787 or complete our online request form.