Trusted Furnace Replacement Company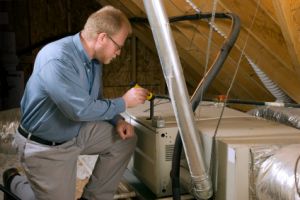 Furnaces are almost constantly under a tremendous amount of pressure during the winter months, so they require frequent maintenance and prompt repairs. Furnaces need to receive a lot of attention in order to function well, which is our professional heating contractors recommend that you have tune-ups and maintenance performed by a professional at least once each year. However, no matter how well-maintained your furnace is, you will eventually need to replace it.
At 24/7 Refrigeration Heat & Air, we can help you replace your furnace and ensure that your home has all of the heating it needs. Whether your furnace isn't able to run efficiently or it's completely broken down, replacing it may be the only way to keep your home warm and your energy costs low.
Our professionals can handle every aspect of a furnace replacement, and we'll guarantee your complete satisfaction with all of our work.
Furnace Replacement Warning Signs
Well-maintained furnaces can last for 20-30 years. A furnace that doesn't receive regular maintenance may only last 10 years. If your furnace is going to need to be replaced, you may notice some of these signs:
Buzzing, clicking, or humming noises coming from the furnace.
Rust, soot, or moisture collecting around the furnace.
Leaks of any kind.
Decrease in the unit's energy efficiency.
None of these are definitive signs that you'll have to replace your furnace, but they all mean that something may be seriously wrong with the unit. If you notice any of these signs, contact our professionals immediately. We'll help you determine whether the problems can be solved repairs, or if you'll need to have your furnace replaced.
Our Furnace Replacement Experts
Our professionals have extensive training and experience working with all kinds of furnaces. When you need to have a furnace replaced, we'll be able to handle every aspect of the job, from removing your old unit to modifying your ductwork as necessary. We''ll help you choose the perfect new furnace for your home, and we'll provide you with a great installation.
Recent Articles
How Heating Repairs Can Save You Money

Most of the time, your air conditioner keeps your home cool and you don't need to give it a second thought. However, the machinery of your AC and cooling system can develop problems, which can make your home uncomfortable. It might also increase your energy costs each month. When you encounter any problems with your air conditioner, you need to have them repaired as soon as possible […]

Read More


The Most Common Air Conditioning Problems

Keeping your home warm is extremely important during the colder months, and you need to know that your heating system is totally reliable, effective, and efficient. That's why it's so important to have regular maintenance and prompt repairs performed on your heating system. Our professional heating contractors can help you keep your heating system in the best condition possible at all times […]

Read More
If you're looking for furnace replacement services, call 24/7 Refrigeration Heat & Air at 903-784-8787 or complete our online request form.