Reliable Air Conditioning Repair Services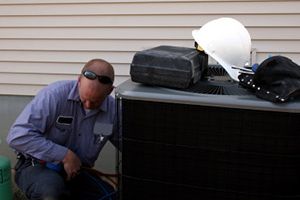 One of the biggest priorities during the summer months is keeping your home cool and comfortable. You need to know that you air conditioning system is in great shape so that it can keep your home cool while keeping your energy costs low. At 24/7 Refrigeration Heat & Air, our professional air conditioning contractors are always ready and eager to help you solve any problems that you encounter with your cooling system.
Our air conditioning contractors are all licensed professionals with extensive training and experience. We'll be able to quickly diagnose any problems you encounter with your air conditioner and provide you with air conditioning repairs that are thorough and accurate. We'll do whatever it takes to make sure that your AC is totally reliable efficient.
Call us today to schedule your appointment for repairs, and we'll be looking forward to assisting you.
Maintenance and Repairs for Your Home's AC
Keeping your air conditioning system well-maintained can prevent major problems from occurring in the system. Air conditioners that receive regular maintenance will operate more efficiently and require fewer repairs.
Our professionals recommend that you have an air conditioning tune-up performed at least once every year, preferably in the spring, in order to prepare the system for the cooling system. When your air conditioner does have any problems, our experts will be on the scene as soon as possible to help you solve them.
Quality AC Repairs
When there are any problems with your home's air conditioning system, you need to have them repaired as soon as possible. Our experts will be able to provide you with the highest quality repairs possible. We have extensive experience working with all types of air conditioning systems, so we'll be able to determine precisely what is causing the problem, then provide the most thorough repairs possible.
We know how important your cooling system is to your home and your family, so we never take our responsibilities lightly. We'll strive to provide you with excellent service, and we'll guarantee your complete satisfaction with all of our work.
Relevant Articles
QUALITY AIR CONDITIONING REPAIR & MAINTENANCE FOR MAXIMUM SAVINGS

Air conditioning systems are the contributing factor in people's comfort during the summer in Paris, Texas. They are also most often the contributing factor in energy usage. Staying cool and comfortable, especially during the hot summer months, can contribute to a positive sense of well-being and even productivity[…]

Read More


THE MOST COMMON AIR CONDITIONING PROBLEMS

Keeping your home warm is extremely important during the colder months, and you need to know that your heating system is totally reliable, effective, and efficient. That's why it's so important to have regular maintenance and prompt repairs performed on your heating system. Our professional heating contractors can help you keep your heating system in the best condition possible at all times[…]

Read More
If you are looking for professional air conditioning repairs, then please call 903-784-8787 or complete our online request form.