Reliable Furnace Repair Services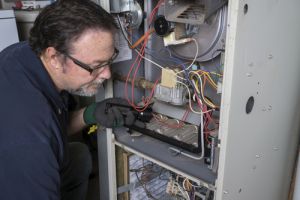 If your home's main heat source is a furnace, then you need that keep that furnace in the best condition possible at all times. If your furnace develops any problems, it own't be able to provide you and your family with the comfort and security that you and your family depend on from your home. During the winter months, any problems with your furnace can be a serious health and safety concern.
At 24/7 Refrigeration Heat & Air, our air conditioning and heating contractors can provide you with furnace repairs that are thorough and accurate whenever you encounter any problems with the unit. We know how important your furnace is to your home, so we'll do whatever it takes to make sure that kept in the best condition possible.
Call us today to schedule your furnace repairs, and we'll be looking forward to assisting you.
Common Problems with Furnaces
Any number of problems could develop in your furnace, though some are more common than others. You should have your furnace inspected and tuned up once a year, and you should contact our professionals if you notice any of the following issues:
Pilot light ignition problems: If your furnace's pilot light frequently goes out, then your furnace may only be able to produce intermittently, and it may not be able to produce heat at all. our experts can resolve these issues promptly and professionally.
Air flow problems: problems with air flow may be caused by belts, bearings, or fan motors. They'll often result in your furnace overheating, or in poor heating control.
Thermostat malfunctions: If your thermostat develops any problems, you won't be able to properly control your heating system. Our experts can repair or replace your thermostat as necessary.
Lack of maintenance: Furnaces are constantly under tremendous amounts of stress and pressure, so they require a great deal of maintenance. We recommend you have your furnace tuned up at least once each year, and you should also have any problems repaired as soon as possible once they develop
Recent Articles
How Heating Repairs Can Save You Money

Most of the time, your air conditioner keeps your home cool and you don't need to give it a second thought. However, the machinery of your AC and cooling system can develop problems, which can make your home uncomfortable. It might also increase your energy costs each month. When you encounter any problems with your air conditioner, you need to have them repaired as soon as possible […]

Read More


The Most Common Air Conditioning Problems

Keeping your home warm is extremely important during the colder months, and you need to know that your heating system is totally reliable, effective, and efficient. That's why it's so important to have regular maintenance and prompt repairs performed on your heating system. Our professional heating contractors can help you keep your heating system in the best condition possible at all times […]

Read More
If you're looking for furnace repairs, call 24/7 Refrigeration Heat & Air at 903-784-8787 or complete our online request form.